HRYC
Yes, that's right, we're collecting all our yarn in our arms and wandering off to a new store. The Grand Arcade is up for redevelopment which means we unfortunately are faced with yet another move.
Firstly: it sucks. It's frustrating. It's been incredibly difficult to find new premises. We would much rather stay exactly where we are, trust me. 
Last day Willis Street - Sat 24 Feb
First day Lyall Bay - Fri 2 March
New Lyall Bay hours:
Friday, Saturday, Sunday 10am - 4pm
(we may extend these once we've settled in)
Long story short, we're off to Lyall Bay. It's our best solution to a tough problem and know it will be inconvenient to many. We will be offering 'studio' hours in the new location, and continue shipping online orders every day. The plan is to be back in the CBD in 2019, catering to all your yarny needs.
You'll find us upstairs in the Real Surf building at 68-74 Kingsford Smith Street from Friday 2 March.
Our new neighbours include the wonderful Sue Dasler pottery, Parrotdog craft beer and Busters Woodfired Pizza. Just around the corner is the excellent Busy Bee Quilt shop. Not to mention the beautiful beach, Bunnings, and the big box retail park just along the road.
Keep an eye out for beer and pizza knit nights from April (yum!). 
Again, we do know how much of a pain this will be to many who love the convenience of us being in the heart of Wellington city. It's a pain for us, too! Rest assured this is only a temporary relocation, and if it's too far for you to travel we are always available online. There's also a plan up our sleeves for a special personal shopping service. 
Much love, Tash & the HRYC team
Last day Willis Street - Sat 24 Feb
First day Lyall Bay - Fri 2 March
New Lyall Bay hours:
Friday, Saturday, Sunday 10am - 4pm
---
Here you go - the month 1 blanket CAL options. If you want to catch up on what we're doing, pop by Ravelry!
For more info, see our first blog post with all the details. 
I'm posting your month 1 options now so you can make plans (or start early if you can't stand to wait…).
Month 1 (January 2018)
Standard Single Color
Marigold by Polly Plum (free; photo tutorial)
Octoghan by Agrarian Artisan (free; has chart)
Begin the Beguine by Polly Plum (free; video tutorial)
Standard Multi-color
Simbelmynë by Polly Plum (free; photo tutorial)
Cluster Circle In A Square by Joanita Theron (free; photo tutorial)
Serenity by Polly Plum (PAID)
George by Polly Plum (PAID)
Challenge Single Color
Fools Rush In by Polly Plum (PAID; video tutorial)
Challenge Multi-Color
Spiro Star by Helen Shrimpton with optional Border for Spiro Star by Margaret MacInnis (both free)
Ilsa by Polly Plum (PAID; photo tutorial)
Pick as many blocks as you like from any category. The headings of single/multi-color are merely suggestions for patterns that I thought would look particularly nice in 1 vs. 2+ colors; don't let that hold you back if you want to change things up.
---
After taking a year off from crocheting blankets, I'm ready to embrace another crochet afghan CAL. This one will be similar to the one from 2015, (check out the album on our Facebook page!) with new patterns and a few twists. 
Although we're not planning to start until January, I'm posting this description now to give you plenty of time to think about options and to plan your yarn. HRYC can order in more yarn specifically for your project (anything we typically stock), but options from overseas supplies like Cascade can take awhile to arrive, especially around the holidays, so it would be better to order them sooner rather than later.
I know the descriptions below is long. The tl;dr version: Select and make 1–4 patterns per month from any of 4 categories, depending on your intended blanket size, interest, and time.
Choose Your Own Adventure CAL 
Jan 2018–Dec 2018
Choice #1: How big? 
Blanket size options run from 9 (3×3 baby blanket) up to 35 (5×7 bedspread) squares. Plan to make 9, 12, 16, 20, 24, 25, 30, or 35 squares. 
Depending on your selected size, you will aim to make 1–4 squares/month 
Although all suggested patterns were written for 10ply, yarn weights 4ply through 12ply can be used; just adjust the hook size to match 
12ply (6–6.5mm), 10ply (5–5.5mm), 8ply (4.5–5mm), 5ply (3.5–4mm), 4ply (3–3.5mm)
Choice #2: Colour, texture, or both? 
While any square can be made single-coloured or multi-coloured, some are better suited for one or the other. Pick all squares from the same suggested category or use ½ & ½ to form a checkerboard.
Choice #3: How challenging? 
Suggested patterns for the basic CAL will progress in difficulty over the months, starting with beginner-friendly options. Secondary "challenge" squares will also be included each month as additional options for more adventurous/advanced crocheters.
Planned progression:
Each month, a selection of pattern options will be posted in each of 4 categories (Standard single colour, Standard multi-colour, Challenge single colour, Challenge multi-colour). These will include both free and for-purchase ("paid") patterns.

Any paid patterns must be purchased individually. However, sufficient free pattern options will be included in the Standard options such that a full blanket could be made from only free patterns.

Each pattern list will specify whether individual patterns are paid or free options and will highlight patterns that include photo or video tutorials.

The pattern lists will link to the Ravelry entry for each pattern. The patterns themselves will not be posted.
Notes about the pattern options
Pattern options posted for earlier months will intentionally be composed of more patterns than later months because patterns from any previous month can be substituted as desired.

A substantial portion of the pattern options will be designs by Polly Plum, both because her designs are gorgeous and because her patterns are well-written, often including photo and/or video tutorials.

Patterns from the HRYC 2015 Afghan Square CAL will not be repeated in the official pattern options, but feel free to use them as additional options if you missed out last time.

To participate, just follow along in the Ravelry Discussion Thread, posting photos, comments, and questions. Feel free to bring your squares along to "Knit" Night at HRYC on Thursdays if you'd like company or help.
---
Back in 2009, all the way back when I was working at Socktopus and discovering this delightful world of hand-dyed yarn, one of the regulars introduced me to Wollmeise. 
The word was said with hushed, urgent tones, communicating the precious nature of this yarn. Stories were shared of online carts being emptied before you could check out, of the delight of the intensely saturated colour. 
I didn't quite understand until I saw it for myself. Oh. My. Wool. Loving. Heart. 
Everything they said was true. 
On my travels I managed to get along to the Wollmeise store in Pfaffenhofen, outside Munich. The lovely man working was originally from Cambridge here in NZ (of course) and I ran into Mel, my NZ friend met through Socktopus who then ended up flatting with me above the Petone shop for a couple of years.
I bought a rainbow of yarn, some of which is still preciously kept in my stash to this day. 
Some has turned into socks. 
Dawlish socks by Rachel Coopey
Rosebud Socks by Wendy D Johnson
When I had this first inkling to open a yarn store, Wollmeise was number one on my mental yarn bucket list. I never thought it would happen. 
Here I am, today, writing to tell you that it is happening. Wollmeise is in Wellington. About to be on our shelves, in New Zealand for sale for the first time ever. The cult of Wollmeise is real, and if you don't know it, do come along and find out what all the fuss is about!
Join us for Wollmeise day, the first time you'll be able to see it in the wool, on our shelves. With special appearances by Circus Tonic Handmade Revelry Sock and Knitsch Yarns Staple Worsted. Plus cupcakes!
Wollmeise Day
Saturday 6 May
10am - 4pm
Sweet Bakery cupcakes, Wollmeise, Circus Tonic Handmade and Knitsch. Plus some delightful company and giveways!
 Here's a sneak peek of what we have waiting for you...
Delightful Wollmeise Twin 
Circus Tonic Handmade Revelry Sock
and more like this!
Terms and conditions: No online sales, sorry, we will take phone orders from 12pm on Saturday. Maximum 4 skeins of Wollmeise per customer (we'll remove this limit for future stockings). No holds or laybys. 
---
 During April, our friends at Little Sprouts are running a longies knit-along, and what better excuse than to share some pattern ideas and look at some adorable babies while we're at it. We're sponsoring a spot prize - a Symfonie Deluxe needle set from Knit Pro, oooh la la!
All you need to do is knit (or crochet) a pair of longies, post a picture in the Little Sprouts event on Facebook  and you're in with the chance to win! And remember you can always drop items off to us in the shop and we'll pass them on for you. 
As an added bonus - comment on this post before Friday 14 April and one commenter will be gifted one of these paid patterns (pdf, via Ravelry). Hooray!
Toasty Waffle Pants by Kate Oates - in 10ply / worsted
Lamby Leggings by Sarah Lehto in 10ply / worsted weight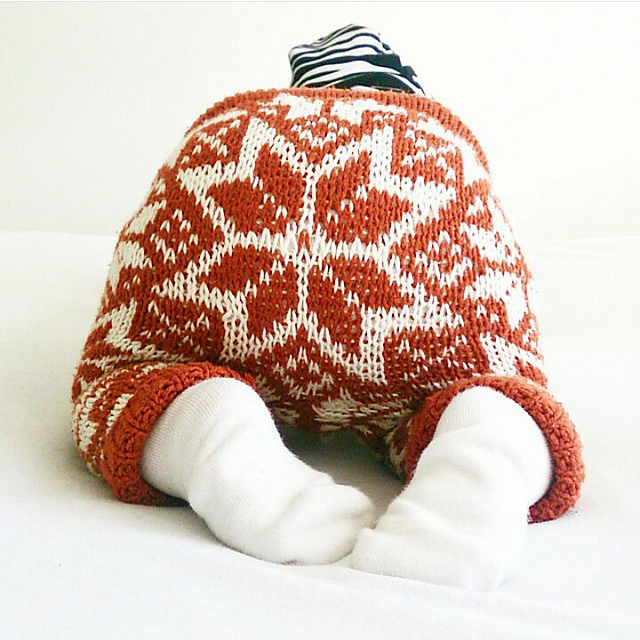 Starrypants by Tina Hauglund (how adorable is that star butt?!) in 8ply / DK
Tiny Bird Soaker Pants by Jenny Rasmussen - in 4ply / fingering (free pattern)
Rocky by Tincanknits in 4ply / fingering
Balloon Baby Pants by Ingrid Aarten Bøe in 4ply / Fingering
---